Written by
Susan Shu Chang
on
Rewriting my LinkedIn bio - what I improved, and how it's evolved
I hadn't updated my Linkedin summary/description in almost a year, and when I thought to read it again, it seemed to need a re-write. (We're also our own worst critics.) I took some time to redo it, and thought I'd share what I changed, and why. Perhaps it can help you when you're re-writing your own!
Just for fun, I also dug up an older, pre-August 2020 version, which I may have written in 2019. I laughed a little reading it, and hopefully it's an entertaining behind the scenes for you.
---
August 2020 version
I ship machine learning at scale with immediate impact. I also host ML livestreams (14,000+ YouTube subscribers) with leading researchers, as Aggregate Intellect's reinforcement learning lead. Previously, I have trained and deployed ML recommender systems to millions of customers.
As a hobby, I've built a profitable game studio from the ground up: developing and shipping a game on Steam and consoles, with mentions in PC Gamer, Destructoid, many more leading game media, and has its own Metacritic page.
I am a speaker in both data science and gaming fields: engagements include PyCon Canada, PyCon India, Data Science Conference Europe, Toronto Machine Learning Series, and more. (Once, I gave 5 talks in 10 days!)
To perform at my best in all of my pursuits, I experiment relentlessly with time management and productivity. This is why I write to share my experiences with effective learning and personal development on my website:
Thank you for stopping by my profile! You can find me at the following:
Regular new blog updates: https://subscribe.susanshu.com/newsletter
Commentary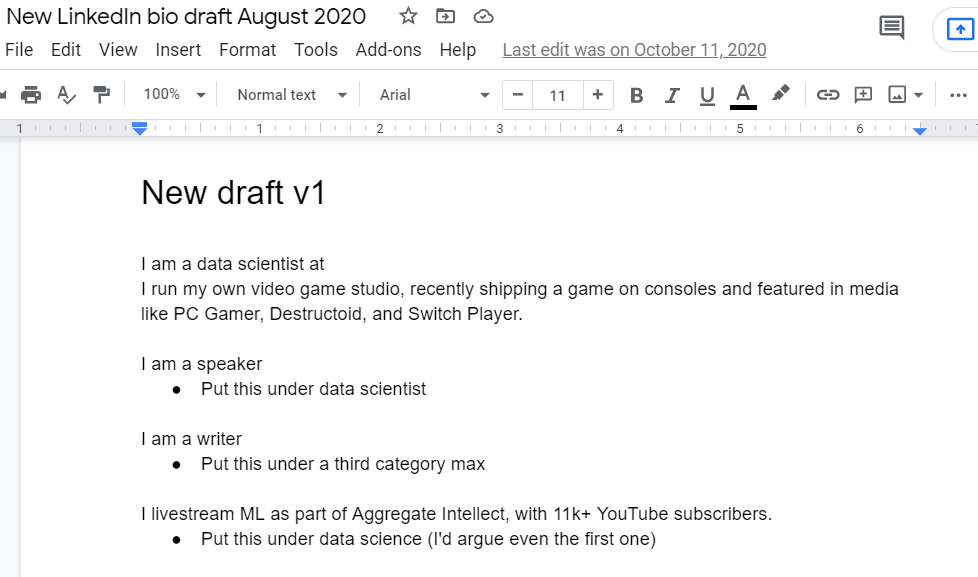 Outline I used to draft my old LinkedIn bio.
From the planning notes I used to create the above bio, note that I had wanted to highlight 2 topics: machine learning, and then game development. Subsequently, I added something about my speaking and writing.
Months later, reading the above biography with fresh eyes, it felt more like a conference talk-ish biography. It was mostly "In data science, I do A, B, and C." "In gaming, I do X, Y, Z." I felt that there was something missing, but couldn't quite put a finger on it.
One guess I have is that, while it listed many accomplishments or "cool" results, it wasn't doing a good job of explaining why I'm interested in what I do, and what drives me.
So I set out to re-write this version, and I did so in 2 hours or less. I didn't look up many resources at all for best practices, but opened up some people's biographies for inspiration, and the below resources.
This article I has examples of copywriters' LinkedIn bios that provided inspiration. Although I didn't follow the "templates" due to different goals (I am not running a consulting service), they still helped me flip the mindset from "I'm just describing myself" to "How can my experience and writing help my readers and professional connections?"
I also found this article helpful for some general tips.
The result is the following:
---
New July 2021 version
I build and ship machine learning at scale with immediate impact.
Currently, I'm helping ecommerce founders' dreams come true, by building ML-powered investing. Previously, with ML, I've improved the website experience of millions (recommender systems), and the call centre experience of thousands (reinforcement learning).
I'm driven by using my expertise in data and algorithms to empower real people, real products, and real businesses.
As a founder myself, I started a profitable video game studio as the sole developer, narrative designer, producer, and many other hats (marketer, copywriter, you name it). The studio has been featured on PC Gamer, Destructoid, Switch Player, and many more leading game media.
Now, both data science and game development are industries with no straightforward path to entry. I think it's important to share the tacit and hidden knowledge that's often only learned on the job.
To help people who are passionate about data science, game development, and career development, I share how I did all these things (with an economics background, even) on my site ➤ Susanshu.com
I share my expertise with fellow practitioners via public speaking. Engagements include PyCon (US, India, Canada, Taiwan), Data Science Conference Europe, Toronto Machine Learning Series, and more. I also interview researchers of cutting edge ML at ai.science (14,000+ YouTube subscribers).
Thank you for stopping by my profile! You can find me at the following:
➤ Regular new blog updates: https://subscribe.susanshu.com/newsletter
➤ Read Data Science and career guides: https://susanshu.com/categories
Commentary
I feel that the new version does a better job of explaining why I enjoy my day to day - for machine learning at least. I do elaborate in these articles about game development motivation and career choice but of course, that's a bit too much information for a short bio.
I feel that I was able to tie in why I spend large amounts of time on writing on this blog, as well. To elaborate, it kind of started as a "coffee chat at scale" to answer questions on how I do the things I do, and why I make the decisions (and optimizations) I do.
Coffee chats are awesome, and have different human connection effects that make it apples to oranges to writing, but in terms of pure information transfer to n people, coffee chats are O(n) and writing is O(1).
Finally, I improved the wording of the CTA at the end, and added chonkier copy/pasted arrows.

Very brief outline I used to draft my new LinkedIn bio.
Just for fun, we can go back in time once again to an even earlier version of my bio.
---
2019 version
I work with a fascinating amount of data and learn something new every single day.
I'm also a part-time video game developer, recently shipping my game on Steam, with mentions on PC Gamer, Destructoid, and Indie Games Plus. I spoke at PyCon Canada and 3 times at Visual;Conference about how to develop games in Python.
Sometimes I make ridiculous machine learning side projects, like a GAN to generate fake faces of the American singer, Ariana Grande. I also used OpenCV to box and crop faces for training data. (I bought the domain ariana-gran.dev, because I like puns.) Sometimes I do web dev stuff (I maintain 3 websites, either with GitHub pages or nginx), and I think DigitalOcean is awesome.
In grad school, I studied Economics at the University of Toronto, focusing on econometrics. My 2 research projects were:
Analyzed online video game reviews with dynamic panel data collected via SteamSpy API. Found that reviews on the day of posting, and 45 days after posting, affected sales the most (Steam platform's recommender system).
Combined web scraped data and Reddit API, to research causality between US political events and engagement in different subreddits. Visualization showed spikes, for example, in certain subreddits after mass shootings.
Going a bit further in history: In undergrad I wrote my thesis on video game DLC pricing on the Steam platform (this topic hardly is a surprise now). I was also part of a lovely community called Velocity.
Commentary
I'm not super sure when I wrote this version, but it's funny to see the evolution.
On one hand, it has the same flaws as my August, 2020 version, that it does too much of "I did A, B, C."
But it did a better job of showing me as a person, especially in the paragraph from "Sometimes I make ridiculous machine learning side projects, like a GAN to generate fake faces of the American singer, Ariana Grande."
Conclusion
In the end, I feel I have improved as a copywriter (??) over the years. I don't really know how much of an improvement my new version is, but feel free to let me know - LinkedIn or hello@susanshu.com.
I hope that by sharing the thought process, it might help in terms of what you might find interesting to add (or not add) for your own LinkedIn bio!
More articles about "career"
Browse all articles about career